For all intensive purposes, any "digital" crypto from this point onwards in the world is probably referring to the crypto version of the fiat currency. And once a country rolls that out, there will no longer be as distinction between crypto fiat and all other forms of the fiat itself. In fact, I dare to say that any non-native forms of the crypto fiat is merely a representation or abstraction of the direct ownership of the crypto fiat (custodial risks).
Govs won't want to say "crypto", because that sounds scary, so they will just stick with the very neutral "digital".
— Matthew Graham (@mg0314a) October 28, 2019
While I totally 100% expected this, I am just blown away by the absolute speed that this is progressing. The
digital RMB is announced
and will be rolling out over the next few quarters, though trials are expected by the end of the year.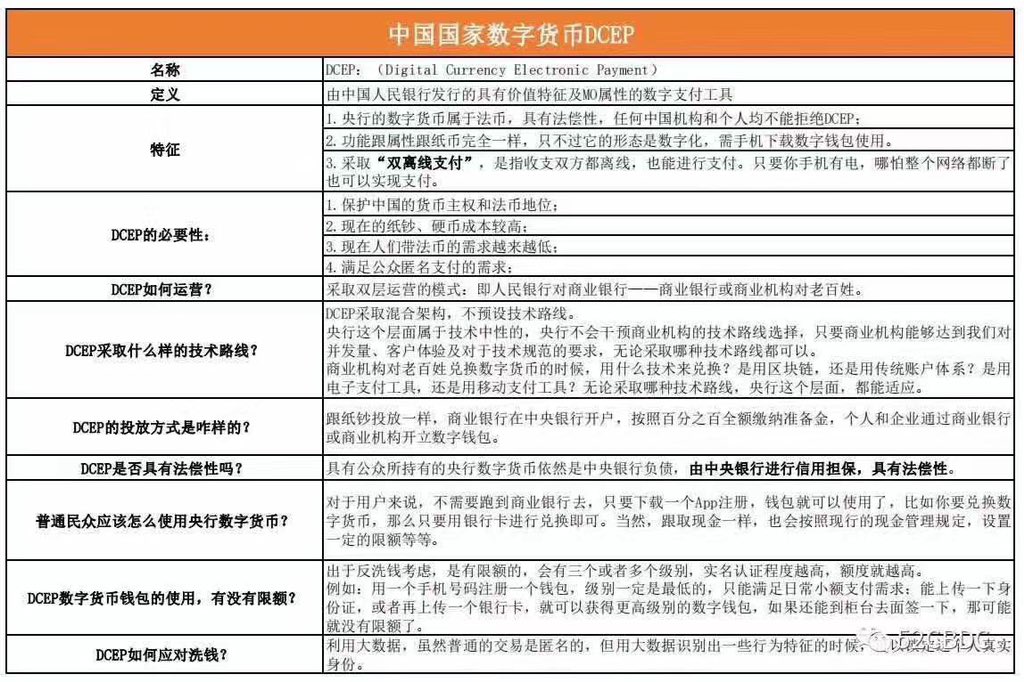 So their digital yuan is actually crypto yuan which will be running on their DCEP network. I guess? As if my Chinese is good enough to read technicalities on blockchain, lmao.
I did just freaking say yesterday
that:
Looks like China is being very smart to not only go digital, but go with blockchain. This is very clearly a stepping stone for them to educate people before they can roll out their digital / crypto RMB.





I think that within a few years,

all RMB will be crypto-based

, which means Alibaba and Wechat will not be simply processing internal database updates of balances, but they will be connected to the RMB blockchain. Of course, nothing in life is certain, but in my opinion this is blatantly obvious as to what will happen in the future.
Am I an oracle?
No,
it is bloody obvious
. As with many other things.
(such as which of my crypto will pump and make me a multi millionaire, but I jest)
What is also very obvious is that this will cue a lot of other countries to begin to digitize (READ: crypto-base) their fiat.
While the US and most of western Europe take turns blocking Libra and shitting on the notion of a corporate cryptocurrency, China has just surprised buttsex everyone by going straight to a national cryptocurrency.
At this early stages with so many unknowns, what I can see is that Alipay and Wechat will basically transform into a giant front end wallet UX for accessing and storing the crypto RMB rather than do the direct processing of money transfer. Transactions will be done by the DCEP, while they try to add value by connecting those payments to auxiliary services they provide. Nothing new, except that basically they will take a massive hit on anything payment/banking/finance/investing related, though I do see it entirely possible for them to be kickbacked a certain amount for funneling that volume. Jeez, sounds like affiliate revenue, doesn't it? Hah.
Anyway, that is honestly just the small issue. I already mentioned the bigger issue before.
Depending on how quickly other countries react and proliferate their own national cryptocurrencies will ultimately decide their future if crypto RMB will become in the future what the USD is today.
I have to say, China's massive footwork, background homework and current progress and position is putting them is a YUUUUGGEEE headstart compared to almost any other country in the world. I find it extremely unlikely that the US can do anything about it. The most "obvious" counter to this crypto RMB is actually backpeddling on Zuckbucks and make it a China vs the Rest of the World situation.
Whatever the bloody case, I continue to happily stack censorship and seizure resistant cryptocurrencies because unlike regular people I actually care if my money is actually MY money.
Imagine being so grossly naive and still thinking that in 2019 blockchain technology is simply an expensive database (and not what the implications of controlling that technology entails) and that cryptocurrencies are a scam.
Just imagine that.
Lol.